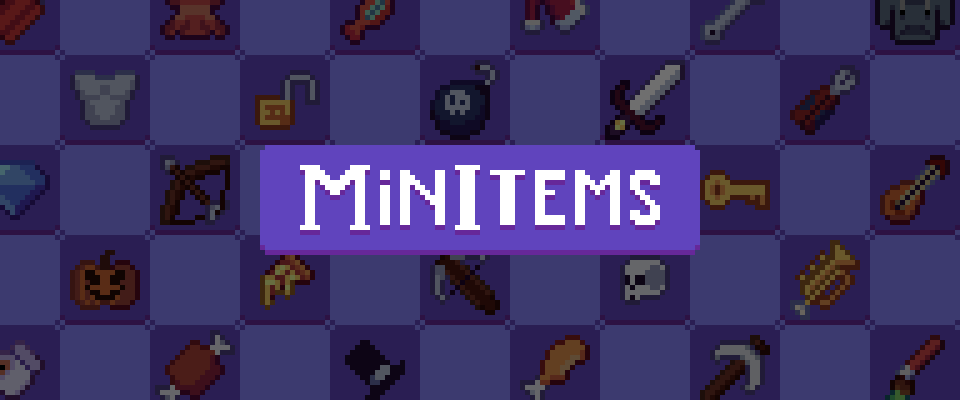 MinItems
A downloadable asset pack
MinItems is a 16x16px Asset Pack focused on items.

Instead of focusing on a specific theme, MinItems goes beyond that, having items from different themes, to suit almost any kind of project, from your classic RPG items, to instruments, modern weapons, clothing from today, and so on.
For making it easier for devs, there's 2 different files/folders for you to choose, the classic, Spritesheets kind of build, and the normal, which divides each and every item into their own category, making it easier to search for specific items.
Also, as you may have seen from the image above, there's an 1-Bit version too, so if the colored version doesn't suit your project, but the 1-Bit does, you're free to use it.
Have a request to add a specific item? Ask for it in the comments, it will probably be added in the next update!

Contains:
-160 Items (for now) made in 16x16 and saved as a .PNG, separated in folders by category (i.e. Food, Tools, etc). This is available in both 1-Bit and Colored versions.
OR
-2 Colored (and 1-Bit) Spritesheets separated by versions (v0.1 to v1.0, v1.1 to v1.2-1.3 currently) containing ALL the items added up to date.
The contents depends on which files/folders you decide to download.

License:

As of July 21 of 2021, MinItems changed from a Personalized License to a MIT License. What does this means for you? Well, it means that:
You can use, modify, merge, publish, distribute, sublicense and/or sell copies of the asset pack.
Basically, you're free to do what you want with it, You're even allowed to reupload it with your own changes if you want to do so. (If you do that, and you want it to be seen by others, let me know so I put the link for it here)
Install instructions
Simply unzip the .zip file, and you're ready to go.
Comments
Log in with itch.io to leave a comment.
Awesome art, thanks a lot for sharing
Buenísimos che, seguro los uso. ¿Tenés pensado hacer un mate?

¡Gracias! Y no lo tenía pensado en un principio, pero muy probablemente lo haga en la próxima actualización, ¡Gracias por la idea!
Eso es velocidad! Muy buen laburo, felicidades!

This Pack is so cute, if I was making a pixel art game I would 100% use these for prototyping at least.